There has been feverish activity over the last week or so. Our Outdoor volunteer team, along with Thai volunteers, have been busy helping to build a home for our two onsite staff - P'Aye and P'Silom.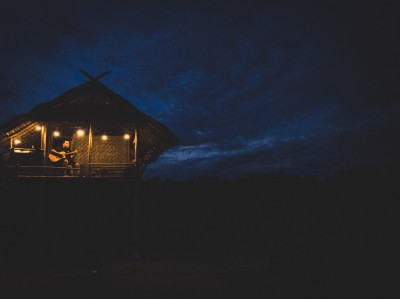 P'Aye is responsible for overseeing the construction work at the project, and will also be the general manager of the farmstay once it's up and running. He's an adept guitarist and also plays the violin. Until recently, when we asked him to assume this role, P'Aye was our manager at Baan Pordeedin guesthouse in Chiang Rai city - our social enterprise project, generating income to support our work.
P'Silom came to us originally as Thai volunteer teacher - we run a monthly programme for groups of Thai volunteers to spend a long weekend in a community, working on service programme as well as teaching Thai language to the local children (whose first language will be their ethnic tongue). P'Silom returned to work in our FreeSchools project and has been a great addition to the team. As the Rai Som school project is now part of the FreeSchools project, we have asked P'Silom to base himself onsite at the school, along with P'Aye. His tasks revolve around the school part of the project - coordinating activities, workshops for teaching staff, liaising with donors and volunteers (Thai), and helping Kru Daow (our school principal).
Their accommodation is the first building onsite to be completed. It means that we can organise our schedules, materials, and labour more effectively, while also cutting travel costs - the school is nearly 3 hours drive from our base.